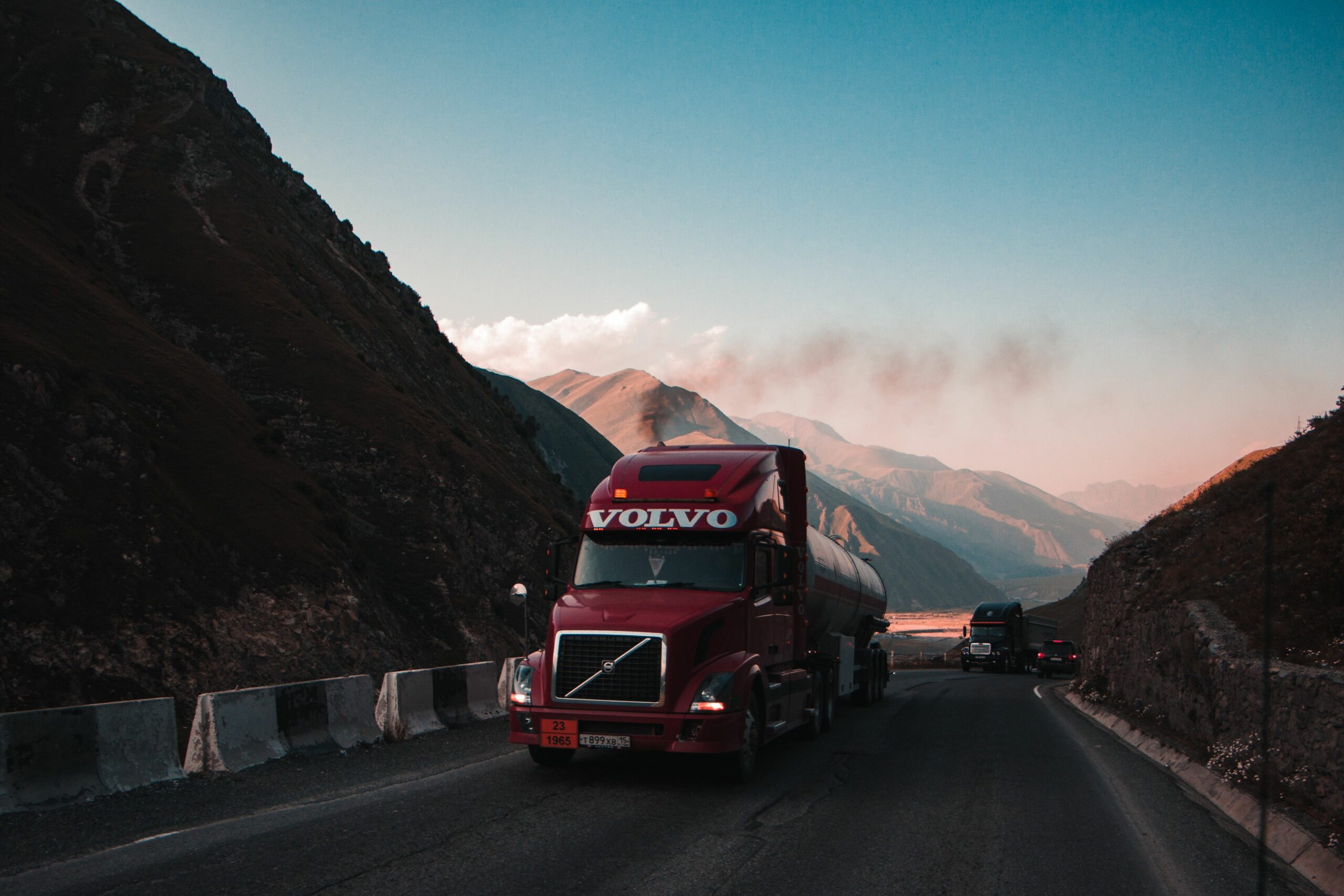 Volvo Trucks are a long-trusted part of the UK haulage and transportation sector. The iconic Swedish manufacturer has a long history of developing reliable and efficient vehicles that keep on delivering year-on-year. In an age of increasing environmental concerns, the Volvo brand has been leading the way in developing new technologies to ensure the industry can meet its obligations. With cost-efficiency as a byword, the Volvo brand is an investment that can ultimately save money.
If you're a business owner, private haulier or fleet manager, then Volvo trucks represent a sound investment. With precision engineering, reliably high standards and a strong design aesthetic, Volvo Trucks look good and can be relied upon to keep you on the road for years to come.
The Volvo range is varied and has developed over the years to meet the diverse needs of commercial operators. Volvo truck models are suitable for a wide range of haulage requirements and the best Volvo truck for your needs will depend on a range of factors.
Whether you're looking for the most powerful Volvo truck, the latest Volvo truck 2023, or just something robust and reliable to cope with your daily workload, then there's something for you.
Manufacturing excellence, performance and innovation
Volvo is committed to manufacturing excellence and are champions of intelligent innovation. Over recent years they have been expanding their range of electric-powered trucks, looking to combine real power with greater energy efficiency. The latest Volvo truck 2023 and beyond will reflect the priority for sustainable transportation with greater fuel efficiency and electrical options.
What are the different types of Volvo truck models?
There is a range of Volvo truck models that are suitable for use in the UK. They have been designed to meet specific requirements in terms of fuel efficiency, load capacity and regular transport distance. All Volvo truck models now pay close attention to the highest environmental standards. Because they're famed for their reliability and longevity, the manufacture of Volvo trucks can have a lower carbon footprint over their lifetime than some of their competitors.
Here are some of the main types of Volvo trucks that are available to UK operators:
The Volvo FH series is a highly popular choice across the globe and is popular with long-haul operators in the UK. Loved for its versatility as well as reliability, the Volvo FH offers a comfortable driver experience and advanced technology. Various engine options are available, all of which have been designed to provide excellent fuel efficiency. This can make them a highly cost-effective choice for commercial long-haul transportation. Volvo Dynamic Steering is an advanced drive assistance system that helps to avoid skidding and unintentional lane changes. The Volvo FH is generally considered a reliable and safety-conscious option.
The Volvo FH16 is a premium heavy-duty truck that is designed to perform under the most demanding conditions. With its powerful D16 engine and up to 750 hp, it has exceptional towing capacity. This makes the FH16 ideally suited for hauling heavier loads over longer distances. If required, it can move loads of up to 185 tonnes. The spacious and well-designed cab maximises driver comfort and an advanced driver assistance system makes for safer handling. The FH16 features the advanced I-Shift transmission system that optimises gear-shifting, resulting in better performance and greater fuel efficiency. The Volvo FH16 is the most Volvo powerful truck, and it's well-equipped to haul large loads, climbing and covering extensive distances. The Volvo FH16 is a great choice for any operator requiring robust performance.
The Volvo FM series is designed for a range of applications and comes in various options in terms of wheelbases and configurations. The Volvo FM can be customised to match your own particular needs. Volvo FM is equipped with Volvo Dynamic Steering, to help avoid unplanned lane changes and the risk of skidding.  It combines outstanding driver comfort with excellent visibility and has been designed as a workplace for busy drivers. Dynamic instrument display and a unique driver interface place the driver in control whether they are navigating, loading or driving.
The Volvo FMX is the best Volvo truck for construction applications. Manufactured with robust chassis and designed for off-road conditions, they can cope with the most challenging conditions. A robust frame and suspension system have been developed to comfortably handle heavy payloads. Regularly seen across a range of construction and industrial applications, including resource extraction, it's well-suited for transporting machinery, equipment and construction materials. The chassis can be adapted to meet specific operational requirements and load capacities.
The Volvo FE is a compact and versatile choice that's widely used across a range of sectors and applications. Popular for delivery transport, public services and utilities transport, waste and recycling, and construction, it offers a balance between performance, efficiency and environmental responsibility. The Volvo FE can be configured to meet different needs, whether you're looking for a tipper, refrigerated delivery vehicle or distribution truck. This makes it an ideal choice for businesses looking for a reliable and realistic truck to meet diverse distribution and collection requirements.
Being compact and highly manoeuvrable, it's a great choice for urban operations or in rural areas with narrow lanes. Its low-entry cab improves visibility and makes it more accessible. This is a great choice for drivers who need to make frequent stops during their routes. The cab has been ergonomically designed for driver comfort and provides an excellent working environment
Overall, the Volvo FE is a practical and popular choice with a wide range of operators and service providers.
The Volvo FL is the manufacturer's most compact and agile truck. It can be tailored for a wide range of applications, making it a suitable choice for different operators. Great in cities and reliable when out on the open road, the FL is available with a diesel or electric engine. Its smaller footprint and tighter turning circle enable it to access congested areas, reducing delivery times and aiding efficiency. The cab has been designed for enhanced driver comfort, with plenty of space to work and rest.
As with other Volvo truck models, it includes an Advanced Driver Support System. This helps to ensure that the truck remains in lane, aids steering and improves visibility. The Volvo FL is a popular choice with operators due to its compact design, adaptability and focus on driver comfort. Eco-friendly engine options make it a good choice for any operator looking to make the shift towards more sustainable operation over the coming years.
Which is the most powerful Volvo truck?
The Volvo FH16 is Volvo's most powerful truck. Available with a range of engine options, it can be fitted with the most powerful D16 engine that's capable of delivering 750 hp.  This gives it incredible performance and power, making it capable of coping with oversized loads, steep inclines and other challenging conditions. It can comfortably cover extended distances. This makes it an ideal choice for any operator looking for a reliable workhorse that will meet any challenge and keep on delivering.
The Volvo FH16 is by no means the most powerful truck on the market but allied to Volvo's record of design and manufacturing excellence, this power is well-harnessed. The Volvo FH16 is well regarded by operators, making it a popular choice and one that's likely to repay the initial investment with its longevity of service.
Which Volvo truck model is best?
With consistently high standards and a record of delivery across their range, every Volvo truck model has its advantages. The best Volvo truck for you will depend on a range of factors.
Here are some of the factors you might wish to consider before purchasing a Volvo truck:
The intended use and application of your Volvo truck will be the most important factor in your decision. Different applications, such as long-haul transport, regional transportation, construction or specialised tasks may have specific needs and requirements
Towing and Payload Capacity
The maximum weight of the cargo you will be transporting will be a significant factor in your choice of Volvo truck. It should have adequate payload and towing capacity to comfortably handle your typical loads.
Engine Power and Performance
Volvo trucks are renowned for their powerful engines, making them an excellent choice for anyone looking for added power from their fleet. Different Volvo truck models provide different power capacities so be careful to choose one that meets your needs, whether that's heavy-duty hauling, long-distance transport or particular working applications.
Safety has to be a key priority for any operator, and all modern Volvo trucks feature advanced safety features. The Advanced Driver Assistance systems found in Volvo trucks include adaptive cruise control, blind-spot monitoring, lane-keeping assist and emergency braking
Ensuring driver comfort is essential if you want to get the best out of your workforce. Cabs that are designed to be workspaces, with climate control and storage can make the driver experience more comfortable. All modern Volvo trucks have a driver-focused design and ergonomic cabins.
Fuel economy across your fleet will be a key factor in your daily operating costs. Volvo's advanced technology provides enhanced fuel efficiency and economy across the range. Choosing a truck that is the right size and power for your requirements will ensure you're not paying for extra capacity you don't need.  Volvo trucks are increasingly available in environmentally friendly fuel options.
Your budget will be a key determining factor in your choice of the best Volvo truck for your needs. With a range of financing options available, it's important to balance your requirements against a realistic assessment of your available funds. Bear in mind that nearly new trucks can be considerably cheaper than brand-new models.
A reliable truck manufacturer for a variety of needs
Volvo has a well-deserved reputation for reliability and efficiency. Volvo trucks can be an excellent investment for a range of operators and their range of Volvo trucks means that there is something for every need.
Expert advice and high-quality parts from CV Hubs & Bearings
At CV Hubs & Bearings, we're specialists in all things HGV wheel hubs. Our experienced team is always on hand to answer any questions you may have. We stock an extensive range of Volvo truck wheel hub components.
Contact us to find out more about our services
Back to news